1. Our route through Cambodia
98 days from October 26 to February 02, 2010
Around 4250 kms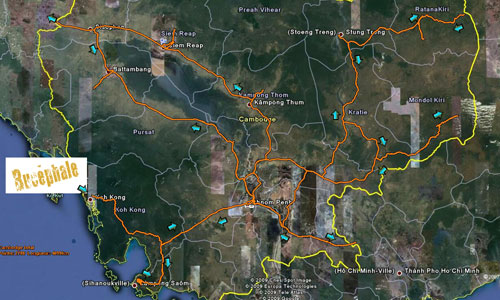 A larger map and GPS folder are down the page.
---
2. Changing money, ATMs, Visa card
It's best to bring both US dollars and Thai baths, they can be exchanged everywhere and you can pay with either. Change Euro in main towns, is also easy. The number of ATMs is growing though, and are easy to find in most of the main towns. At the ATMs it's possible to take out dollars or riels, so don't miss this opportunity it's the only country where it's possible.
3. Financial summary
The rate was 5328 riel to a euro and 4100-4200 riel to a dollar. On average we spent 12 Euros without Gasoil per day.
4.Third-party insurance:
In Cambodia we didn't buy third-party insurance.
5.Carnet de Passage:
All border crossings were a piece of cake. We crossed the following borders:


Thailand into Cambodia at Cham Yeam [southernmost border]


Cambodia into Thailand at Poipet [west Sieam Reap]


Cambodia into Laos, there is only one crossing point north of Strung, which was closed for foreign car at that time. So we turn back.


Cambodia into Vietnam at Bavet, which was also closed for foreign car, as well as we had all the recommendations. So we turn back.
6.Visa:
At the border with Thailand you can buy a 1 month visa for 1000 bath or 20 dollars. We did extend our visa for two months at Phnom-Penh, the most easy way is to use the travellers agency services. Available in Shianoukville and SiaemReap.
7.Car, diesel, petrol stations, roadmap
As prices are varying, consider a litre GO price between 3400 riels [64 dollar cent] and 3000 riels [56 dollar cent]. Good quality.
8.Bucéphale, the truck:
We drove during 65 days of travelling in Cambodia we covered 4250 kilometres [an average of 75 kilometres per day]. Major preventive maintenance on the car has been done by my self. All services can be found easily.
9.Traffic: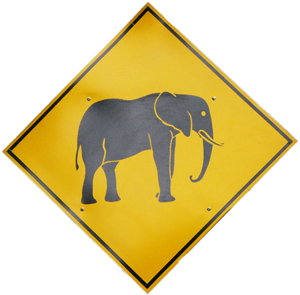 Phnom Penh is quite, but traffic in afternoon is busy, it's better to leave the car and used local tuk-tuk. Outside Seam Reap and Phnom Penh there is not much traffic on the road. People drive slowly and in a relaxed manner, which isn't the same as driving well! Like many other Asian road users they lack any sense of anticipation. Remember, just drive in the move of the motor bicycles. Cambodians love driving in the middle of the road. The horn is used, I like this and do it a lot on the road, and for signalling they mostly use their headlights. Also, as people and animals like the fresh air in the villages, you may have a risk to drive at night. In Cambodia it's a right hand driving.
10.Roads and road maps:
The National Highways have all undergone major rejuvenation these last few years. Once off the National Highways you are most likely to find yourself on dirt late rite roads, whose condition may vary from good to terribly bad. In the dry season they create lots of red dust, in the wet season they become quagmires.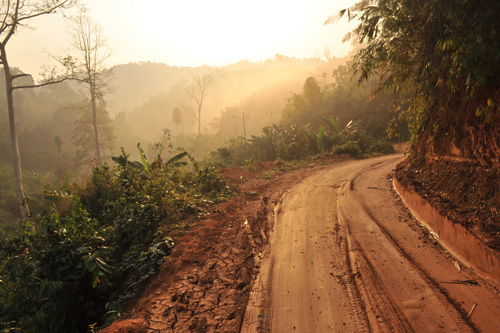 Take your pick! As it's change in better, tracks can be asphalted for you! Just ask to locals. The Rough guide map [Cambodia, Laos, Vietnam] was all right. For our jungle adventure and every day, we have used the Rotweiller maps [1] for Garmin GPS, fairly well documented.
11.Public transport
Ferry crossings:


One on NH 1, between the Vietnamese border and Phnom Penh. The crossings cost vary with the weight and policeman!
12.Paid accommodation and bush camping
Of the 98 nights we spent: 0 in a hotel. 90 in the car on a spot for which we don't paid. In Phnom-Penh, we parked the CC in a safe parking, 2/3$ per night, and slept there, a little bit noisy! N11 34.099 E104 55.662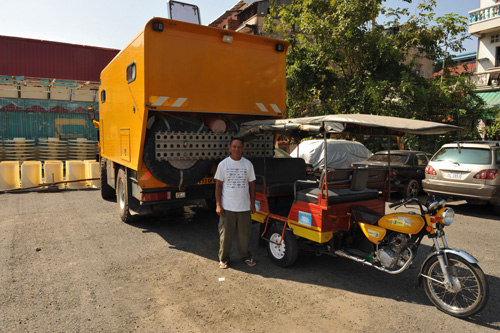 In Siam Reap we came back every day after visiting the Angkor Wat temples, in front of the Museum. Quiet. N13 22.004 E103 51.645 In Sihanoukville, we have camp for free next to the Sun Shine Café, Otress Beach, for a month. N10 34.224 E103 33.152 Bush camping is as you stay on the tracks, due to the mines. Still, we found some scenic and quiet spots.
13.Daily expenditures
We hadn't coked in South East Asia, so we had'nt buy food.
Food:
Cambodia has no spicy food. You can find cheap food stalls everywhere along the road. The towns have restaurants with a larger variety of dishes. Beer is available everywhere and a bottle costs about 50 dollar cent a can.
Water:
We still filter our water, which works just fine. If you don't, refilled with the white bottles of 20 litres, which is pure for sale everywhere.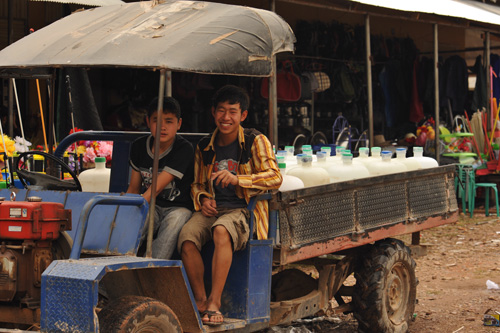 Gas:
They have a different tape for the 13 kg bottles, so you have to find some workshop to make the adaptation. I have done it. Then in Phnom Penh, it will be easy to refill. If you plane to go to Laos, do it now, there is now gas over there.